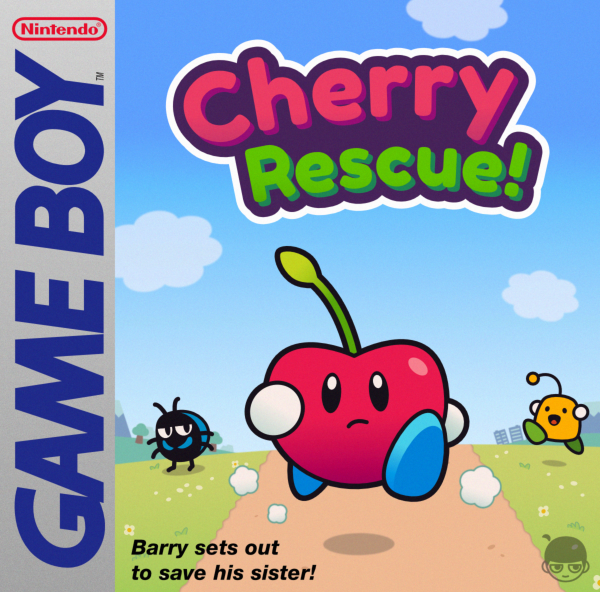 Cherry Rescue!
CONTROLS:
Z / J = A button (Talk to people)
X / K = B button (Jumping)
Enter = Start (Pause game)
WASD / Arrow keys to move + up and down ladders
Barry's sister, Mary, has been captured by a mysterious foe, and you must rescue her!
Run, jump, and stomp the baddies who stand in your way, and get to the end of each level unscathed!

HUGE THANKS once again to Scott Semanski for making the wonderful tunes you hear in this game! Check out his soundcloud for more tracks by him!
This is my second GB Studio developed game. Robby's Day Out took a week to make, but Cherry Rescue! took almost 2 months and a half! I aim to make my games bigger than the previous one.
With the new platformer engine in GB Studio, I was eager to design a lot of new graphics, levels, and scripts, and was excited to have Scott composing once again!

I hope you enjoy Cherry Rescue!

IMPORTANT NOTE: This game was developed using the GB Studio 2 beta platformer engine, which is still in development. Until the full version of GB Studio 2 is available, I cannot alter the physics or actor collision detection as of right now.

CHANGELOG:
0.9 - adjusted Level 5's layout for safer navigation, reduced spike amount
1.0 - fixed the A button not working after playing the game again after credits (press A at credits screen to replay the game!), adjusted bald NPC dialogue in Level 3
Download
Click download now to get access to the following files:
Cherry Rescue! v1.0.gb
512 kB